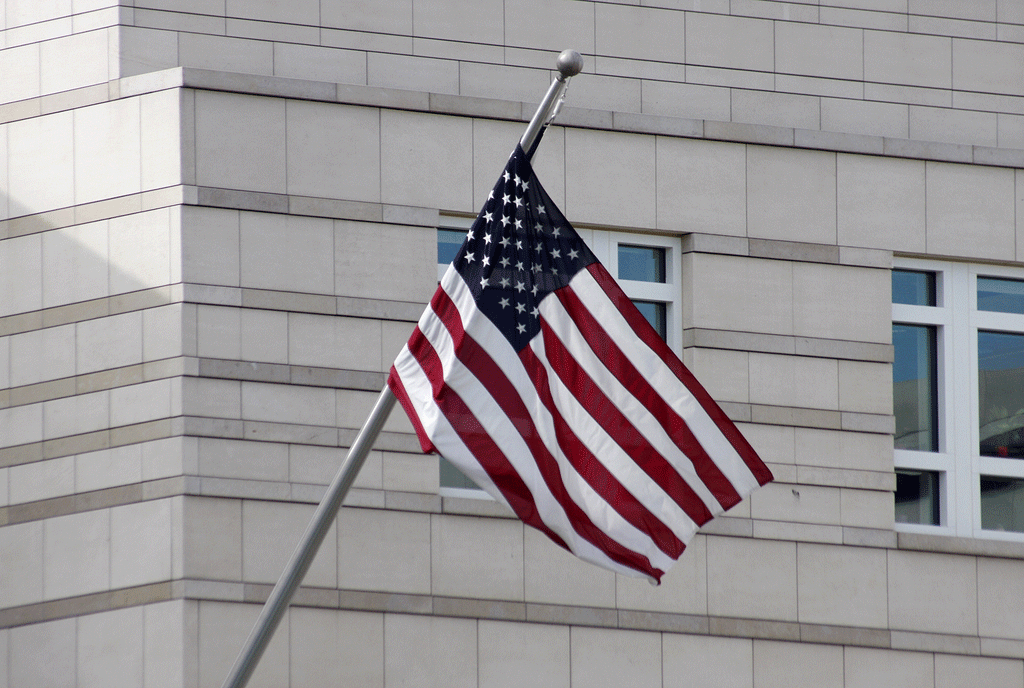 Officials recently gathered in the capital of Mbabane to christen a new facility which, given the rising unrest in the Sub-Saharan monarchy, will definitely need additional security.
The sprawling $141 million campus is nestled in the picturesque Ezulwini Valley, which is directly south of the capital and the most popular tourist destination in Swaziland. This project is one of more than 130 new facilities that have gone up since 1999, and according to the Bureau of Overseas Buildings Operations, 53 additional projects are either in the planning or construction phase. As a nod to the sensitive environmental conditions in this nation, the new embassy has a number of sustainable features, including drought-resistant landscaping and water-conservation plumbing fixtures.
While the State Department at least appears concerned about the ongoing drought, King Mswati III does not seem to share that viewpoint. From the "it's good to be the king" department, the lone absolute monarch in the region collected some $3 million in private donations to host a regional summit at roughly the same time he announced that only about 10% of the money earmarked for drought relief would be used for that purpose. A few weeks earlier, word leaked out about the King's new taxpayer-funded 375-seat, $14 million private jet.
UNICEF estimates that the ongoing drought has adversely affected a quarter of the population, and nearly 100,000 children are food insecure.
Embassy Construction and Security
Against this backdrop, demonstrators recently took to the streets demanding an end to oppressive policies against trade unions, free elections, the promotion of human rights, the right to free political expression, and other changes.  Although the situation is far from volatile, the State Department will understandably want to be ahead of the curve because the thought of an unpopular pro-American autocrat losing power and being replaced with a populist regime sounds eerily similar to the situation in Tehran in 1979. To put a more contemporary spin on things, there are people who argue that the drought in Syria led to the spread of ISIS.
Most overseas construction companies have American-born workers in skilled and supervisory positions while utilizing local labor in unskilled and non-supervisory positions. This approach conserves financial resources and also helps engender support for that particular project, and others like it, among local residents.
Like most overseas private military contractor positions, embassy security is not particularly exciting work. But the jobs require people with special skill sets, and it is an inefficient use of limited military resources to use service members for these positions. As a result, the thousands of embassies and consulates spread throughout the world means there is a demand for thousands of military contractors to guard these facilities and serve as a deterrent against spontaneous acts of aggression; as a result, the State Department is one of the biggest government employers of private military contractors after the DoD.
Injury Compensation
Both the people who worked on the new facility in Mbabane and the private contractors who protect it are eligible for compensation under the Defense Base Act because this law has a much broader application than just active war zones like Iraq and large military facilities like Guantanamo Bay. According to Sections 1(a)(1) and (4), the DBA also applies to persons engaged in overseas public works projects and most people who provide security at these finished or under-construction facilities.
To be eligible, victims do not need to be U.S. citizens. Moreover, the covered events under the DBA are much broader than the covered events under most state workers' compensation programs. Even injuries which occur while the victims are not technically on duty, such as an unexpected ambush after a shift ends, may be covered. Whereas domestic workers must prove that their injures directly resulted from their work activities, DBA claimants must only establish a reasonable connection (or what lawyers call a "nexus") between the job and the injury. The standard under the Act is that the work related illness or injury must have been caused by the work environment, or, if pre-existing, aggravated or the need for care accelerated by the work environment.
Much like workers' compensation victims, DBA victims do not need to prove fault to receive compensation for their lost wages. Typically, victims are eligible for two-thirds of their average weekly wage for the duration of their disability. If they can work but are limited to light duty, they are entitled to two-thirds of the wage difference. Bear in mind that, in most cases, the AWW is very broadly defined to include regular and irregular cash and non-cash compensation.
Medical bills are covered, as well. Typically, the insurance company pays medical providers directly, and the victims are not responsible for any balance due. Once again, the coverage is comprehensive, as all expenses from initial emergency care through complete injury rehabilitation are covered as long as they are medically necessary. Travel costs and other incidental expenses are covered, as well. Most victims can choose their own doctors.
Contact Barnett, Lerner, Karsen & Frankel now to find out how to obtain these benefits and others like them.