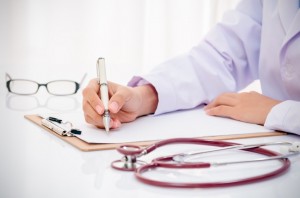 There has been an increased focus and attention on mental health issues in the media, in particular the issue of post-traumatic stress disorder (PTSD) and the long-term management of PTSD. This is of particular importance to civilian contractors working overseas. Many contractors develop PTSD as a result of their work in challenging overseas environments. the ailment can subsequently wreak havoc on their lives, necessitating substantial physical, emotional, and financial support to aid in recovery.The availability of new medical devices to allow for new PTSD treatment options.
Better PTSD Treatment Options?
The development of a new medical device that is specifically designed to assist veterans and civilian contractors in addressing, treating, and managing PTSD is creating some excitement. According to a recent article, researchers at UCLA's Semel Institute for Neuroscience are studying how stimulating a nerve on the side of the face, called the trigeminal nerve, might reset brainwaves. The medical device works by using specific electronic signals to the brain in order to "reset the function of the brain networks that can help [PTSD sufferers] get over their illness."
This research is being conducted in conjunction with the U.S. Department of Veteran's Affairs National Center for PTSD, which is "dedicated to research and education on trauma and PTSD [where] we work to assure that the latest research findings help those exposed to trauma." The PTSD center is engaged in a number of activities including educating military professionals, civilians, and health care professionals regarding the role of PTSD and PTSD treatment options provided through their organization. As the National Center for PTSD states, the issue is very important, as "after a trauma or life-threatening event, it is common to have reactions such as upsetting memories of the event, increased jumpiness, or trouble sleeping [and] if these reactions do not go away or if they get worse, you may have Posttraumatic Stress Disorder (PTSD)." 
Additionally, as the PTSD Center recognizes, the onset of PTSD in civilian contractors is not uncommon. "Going through trauma is not rare [and] about 6 of every 10 (or 60%) of men and 5 of every 10 (or 50%) of women experience at least one trauma in their lives [and] women are more likely to experience sexual assault and child sexual abuse [and] men are more likely to experience accidents, physical assault, combat, disaster, or to witness death or injury." As a result, given the various number of military conflicts that have occurred over the past decade, it is reasonable to believe that the vast majority of military professionals and civilian contractors working in those areas may or will eventually experience some form of PTSD.
It should come to great comfort to those seeking treatment that the National Center for PTSD highlights a number of different PTSD treatment options including:
Cognitive Behavioral Therapy (CBT)

Cognitive Processing Therapy (CPT)

Prolonged Exposure (PE) Therapy.
The National Center for PTSD also sets forth a number of other treatment options, stating, "there is a similar kind of therapy called Eye Movement Desensitization and Reprocessing (EMDR) that is used for PTSD [and] also, medications have been shown to be effective [where] a type of drug known as a selective serotonin reuptake inhibitor (SSRI), which is also used for depression, is effective for PTSD." Additionally, the National Center for PTSD provides a network of health care professionals, hospitals, and other social workers that can assist families in this regard.
The National Center for PTSD also functions as a network or support group for families and friends involved. "PTSD can make somebody hard to be with. Living with someone who is easily startled, has nightmares, and often avoids social situations can take a toll on the most caring family [and] early research on PTSD has shown the harmful impact of PTSD on families."  There are various programs from the Center wherein individuals can receive training regarding how to show sympathy and deal with issues avoidance, depression, and negative feelings. The National Center for PTSD recognizes that dealing with PTSD whether it is your mother, father, uncle or aunt, is one of the most challenging thing for families of military veterans dealing with such issues. The National Center for PTSD is a significant source of research, information, and support for these families throughout the process from diagnosis, to treatment, and eventually to recovery and management.   
Civilian contractors are often unaware of their rights when it comes to support following injury overseas. While these new treatment options are encouraging, they are only beneficially when one has the financial resources to actually seek the treatment. Fortunately, federal law allows civilian contractors protections via the Defense Base Act to seek financial support to aid in recovery for these types of harms.
Our Firm
If your spouse or loved one was injured while working outside of the United States for or as a U.S. government contractor, you should contact the Defense Base Act death benefit attorneys at Barnett, Lerner, Karsen & Frankel, P.A. Worker compensation and other legal claims under the Defense Base Act can be substantial and involve a complex, arduous, and challenging process.
A qualified injury and workers' compensation attorney will work with the employer and responsible insurance carrier to secure the employment benefits owed to you and your family under Defense Base Act policies. Pursuing your claim under The Defense Base Act is a complex process and subject to many procedural and substantive requirements mandated by federal law. The injury and workers' compensation attorneys at Barnett, Lerner, Karsen & Frankel, P.A. are experienced in claims and benefits arising under The Defense Base Act and Longshore and Harbor Workers' Compensation Act and know how to advocate for your rights. Contact Barnett, Lerner, Karsen & Frankel, P.A. to get the advice and guidance you need so you receive the Defense Base Act health care and personal injury benefits you deserve.