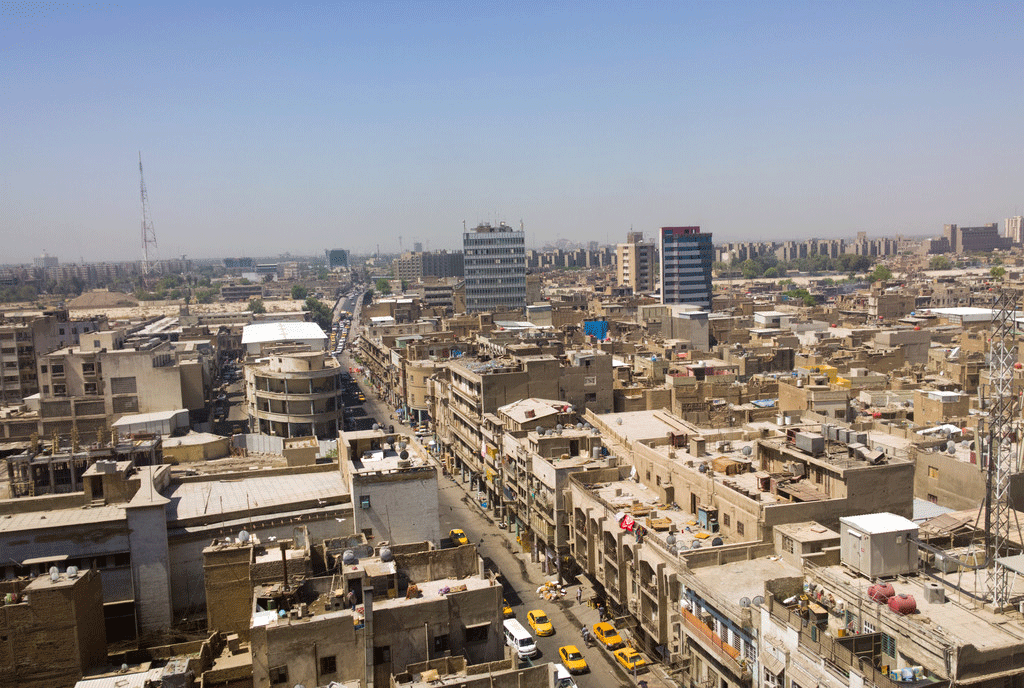 Four foreign contractors – three Americans and an Iraqi translator – were kidnapped on the south side of Baghdad, according to Iraqi security sources.
The U.S. State Department confirmed the abduction of "several" contractors and insisted that in-country officials were "working with the full co-operation of the Iraqi authorities to locate and recover the individuals." Until recently, the Iraqi capital had been relatively stable since the American pullout in 2011. But Islamic radicals, including the Islamic State of Iraq and al-Sham, have stepped up their campaigns of violence in recent months. ISIS claimed responsibility for a shopping center attack earlier in January; that assault, which involved multiple gunmen and a car bomb, reportedly killed 18 people. Also last month, a group of Qatari hunters, which may have included members of the royal family, was kidnapped southwest of Baghdad by unknown militants.
No group has yet claimed responsibility for the kidnappings.
Contractors in Iraq
After ISIS took control of a large part of Iraq, including the city of Mosul, President Barack Obama ordered U.S. troops to return to the war-torn country; there are now over 3,000 American soldiers in Iraq in non-combat roles. The same cannot be said of many contractors, the number of which has steadily increased by about 5% per year since shortly after the withdrawal.
These contractors play a pivotal role, as evidenced by the fact that DoD contractors flew the helicopters which carried Defense Secretary Chuck Hagel and his entourage during their visit to the Iraqi capital. Other contractors provide security in and around American facilities, while performing other important tasks.
Reston, Virginia-based Triple Canopy, which was founded by U.S. Special Forces veterans, is the largest defense contractor in Iraq. This organization, which is part of the Constellis Group, largely took over for Blackwater beginning in 2009, and it has maintained a significant presence in Baghdad ever since.
Since there are no clear battle lines, American contractors in Iraq are at significant risk, not only because of direct action against militants, but also as potential kidnapping targets by groups seeking to gain political leverage or notoriety amongst natives. To make matters worse, when contractors are injured or killed while on the job, politicians sometimes give these casualties little or no attention.
The Defense Base Act
Since 1941, the Defense Base Act has provided a means of compensation for private workers who are employed in government service overseas. This measure, which is actually an extension of the  Longshore and Harbor Workers' Compensation Act, provides coverage to private employees who are:
Working on overseas military bases,

Engaged in government-funded public works projects outside the U.S.,

Employed by a foreign government, if such activity is deemed important to the national security of the United States, or

Engaged in paramilitary overseas activities.
In addition to direct participants who were injured in Iraq, the DBA also includes subcontractors who are involved in any covered activity. Firms that fail to carry DBA insurance face stiff penalties, including waiver of any common law defenses.
Defense Base Act Claims
If you were injured while working in a listed function, the first thing to do is file a claim. Next, it is critical to see a doctor as soon as possible. Under the DBA, you have the right to see the physician of your choice. A prompt medical claim is often critical in the fight for fair compensation at a later date.
The Department of Longshore and Harborworkers' Compensation may conduct a hearing, which is called an Informal Conference, in disputed claims. Prior to that conference, the DLHWC will want to review statements from the employer, the employee's medical records, and perhaps other documents as well. While the DLHWC does not have the authority to force an insurance company to make payments, they can make recommendations, which are critical to proceeding to the next step, the filing of a request for a Formal Hearing in front of an Administrative Law Judge (ALJ). Prior to this second hearing, there will be some additional discovery that nearly always includes depositions of the injured workers, doctors, expert witnesses, and other persons.
After the ALJ hearing, it sometimes takes up to a year for the decision to be issued. If there is an appeal, it is usually to a Federal Court of Appeals.
Resolution
Most DBA cases are settled out of court; The ALJ must approve all settlements and ensure that they are "reasonable." Victims who were injured in Iraq or Afghanistan are eligible to receive cash benefits for their economic losses, including:
Medical treatment,

Lost wages,

Death benefits, and

Rehabilitation expenses.
How an Attorney Can Help
In all DBA claims, it is important to have an experienced and aggressive advocate who is committed to both obtaining maximum compensation for your injury and securing the best possible medical treatment for your future. To get started on your claim for benefits, contact the Defense Base Act attorneys at Barnett, Lerner, Karsen & Frankel, P.A. today.