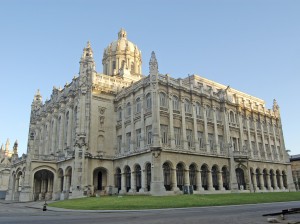 The United States has many embassies throughout the world that house diplomatic representatives within the territory of the host nation. While they are located in a host country, embassies have a special status as an extension of United States sovereignty. As a result of international tensions, the United States shuttered its embassy in the Republic of Cuba in 1961.
Normalization of Diplomatic Relations Between the United State and Cuba
54 years after the United States of America and the Republic of Cuba officially broke off diplomatic relations, the two countries have reached an agreement to reopen a Havana embassy and re-establish diplomatic relations after years of strain and debate on geopolitical issues. Since the 1970's the only diplomatic link the United States had in Cuba, was its office of U.S. Interests, which has undergone a conversion to a full United States embassy with the help of many American and Cuban contractors.
The move, announced by President Obama and the Department of State in July, 2015, will return many defense contractors and their employees to the Havana embassy. The normalization in relations will usher in a new era of diplomatic activity and require many non-federal personnel to maintain ongoing operations. As part of resuming official ties between the two countries, there will be a concerted need to assist those individuals working on the bases and land located in Cuba. As a result, many government contractor employees will be working in support of the Havana embassy. It is important to remember that employees of government contractors that are working outside the United States have unique protections under federal law, even if they are not citizens of the United States.
The Defense Base Act
The Defense Base Act, 42 U.S.C. §§ 1651-54, provides, among other requirements, that contractors and subcontractors that do business with the United States must establish and maintain workers' compensation insurance that protects their employees that work on U.S. military bases or other property utilized by the United States outside of its territories, such as the embassy being re-established in Havana.
Administration
The Defense Base Act is administered by The United States Department of Labor, Office of Workers' Compensation Programs (OWCP), Division of Longshore and Harbor Workers' Compensation. The primary role of the OWCP in relation to The Defense Base Act is to ensure that private companies that are subject to the act, such as construction and service providers to United States embassies, appropriately cover their employees and ensure that worker's compensation benefits are properly awarded. Government contractors are required to have a policy issued by an authorized carrier or be self-insured per OWCP guidelines. According to the OWCP, the three major insurance carriers are ACE, AIG, and CNA.
Who is Covered by The Defense Base Act?
Individuals directly employed by the United States government (including its embassies) are not entitled to the coverage mandated by The Defense Base Act. In order to be covered by The Defense Base Act, an individual has to be an employee of a contractor doing business with or providing service to the United States government through its foreign installations and embassies. The Defense Base Act covers citizens of the United States and foreign nationals (regardless of nationality) that work for United States government contractors.
What Benefits are Provided
If you are injured while working overseas for a United States government contractor, or subcontractor, including at the re-established U.S. embassy in Havana, Cuba, you may be entitled to benefits under the Defense Base Act. The Defense Base Act provides coverage to those employees injured and those tragically killed during their employment. If you have been injured your benefits could include compensation based on your injury as well as medical care for your work-related injuries.
Pursuing Your Claim
If you are injured while working outside of the United States for a U.S. government contractor, you should notify your employer immediately so that you can get the medical treatment you need for your injury. Your employer is required to report an employee claim to its insurance carrier or administrator to initiate the claims process, which is overseen by the OWCP. You or your qualified  workers' compensation attorney will need to work with your employer as required under the provisions of The Defense Base Act and its regulations. The OWCP can help you with certain aspects of the claims process, and if you have a dispute with your employer, the OWCP will work with your employer and your attorney to reach a resolution. If you do not agree with a determination made in the course of your claim, you will have to appeal to an administrative law judge and other courts of review, if necessary.
How We Can Help
Pursuing your claim under The Defense Base Act is a complex process and subject to many procedural and substantive requirements mandated by federal law, which could affect the outcome of your claim. The workers' compensation attorneys at Barnett, Lerner, Karsen & Frankel, P.A. are experienced in claims and benefits arising under The Defense Base Act and Longshore and Harbor Workers' Compensation Act who know how to advocate for your rights as a civilian contractor working overseas. If you were injured while working at a U.S. embassy, or other United States installation, while working for a government contractor, contact Barnett, Lerner, Karsen & Frankel, P.A. to get the advice and guidance you need so you receive the compensation you deserve.