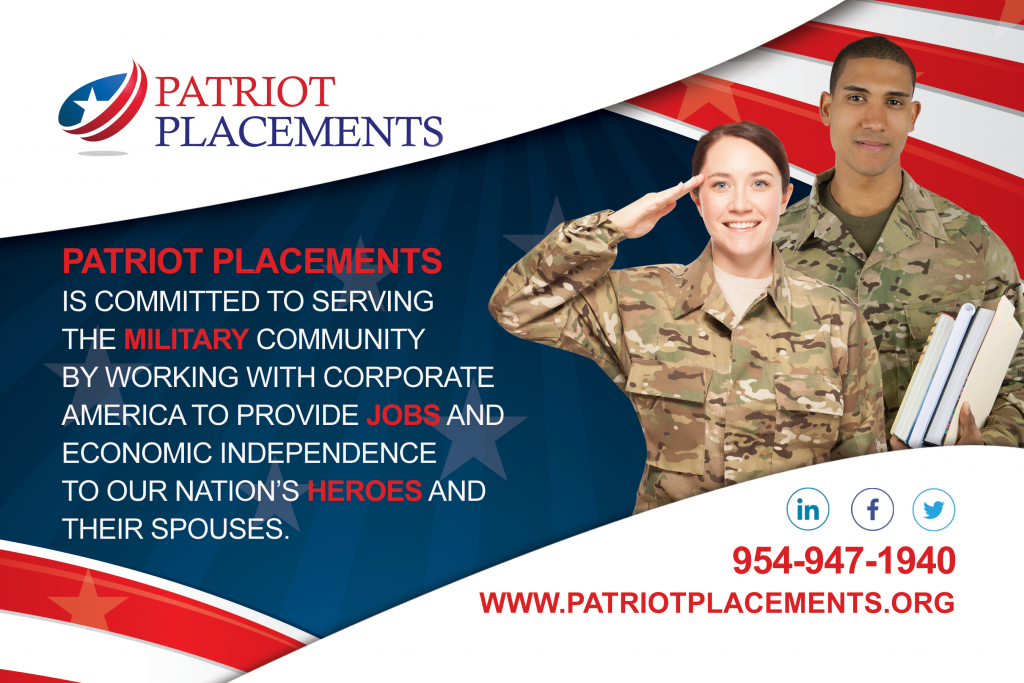 Fort Lauderdale, Florida (Date, 2015) – Brian C. Karsen, Esq., a partner at Barnett, Lerner, Karsen & Frankel, P.A., is announcing his participation as one of the board members of the recent startup, Patriot Placements, a new 501(c) (3) organization focused on helping military veterans and their spouses obtain valuable opportunities for career placement and support. With a clear emphasis on serving the military community, the non-profit seeks to give back to veterans and their families by giving them the critical tools they need to prosper in today's workforce.
"Our initiative with Patriot Placements will play a significant part in linking members of the armed forces to the job assistance necessary to gain employment in the private sector," commented Mr. Karsen, who is also the Chief Legal Officer of Patriot Placements.
Addressing the challenges returning veterans face in finding meaningful employment and transitioning into a civilian workforce, Patriot Placements will stand out in the employment arena by offering a strong support system and personalized attention to assist veterans. This includes providing one-on-one attention with a dedicated recruiter, resume and interviewing assistance, social media assistance and select job matching. With strong working collaborations with the business community, Patriot Placements further provides value by locating the vocational opportunities that best fit a veteran's specific needs and aspirations.
"My work with the law firm has made me uniquely familiar with the occupational issues confronted by our nation's veterans in returning to the civilian workforce," said Mr. Karsen. "Consequently, I really wanted to be a part of this endeavor. Patriot Placements will empower veterans and their spouses by successfully converting their military proficiencies into private-sector professions. This is an important venture that I am enthusiastic to contribute to."
To learn more about the Patriot Placements organization, please visit http://www.patriotplacements.org, and like us on Facebook at https://www.facebook.com/Patriot-Placements-1420245761568821.
About Brian C. Karsen, Esq.:
Mr. Karsen is a partner with the firm of Barnett, Lerner, Karsen & Frankel, P.A., which is one of the largest firms nationally representing civilian contract workers assisting U.S. military operations abroad. Many of his clients are former military members themselves. Due to his experience in this specialized area of law, he is uniquely familiar with many of the vocational issues confronted by the nation's veterans in returning to the civilian workforce. Mr. Karsen received his law degree from the University of Florida, where he also earned an M.B.A. and a B.A.
About Barnett, Lerner, Karsen & Frankel, P.A.:
Barnett, Lerner, Karsen & Frankel, P.A. was founded in 1995 by David C. Barnett, Esq., and Barry R. Lerner, Esq. Previously, both attorneys handled claims representing employers and carriers as well as employees who suffered work related injuries.
In 1995, Mr. Barnett and Mr. Lerner decided to create the law firm of Barnett, Lerner, Karsen & Frankel, P.A. to only represent employees because they did not believe that injured workers were receiving appropriate representation regarding claims against insurance companies and employers. As such, since 1995, the focus of the firm has been on the rights of injured workers, both in the U.S. and internationally, with expatriate compensation claims. Mr. Barnett and Mr. Lerner have litigated hundreds of cases throughout the United States and have filed briefs and appeals in numerous state and federal jurisdictions.