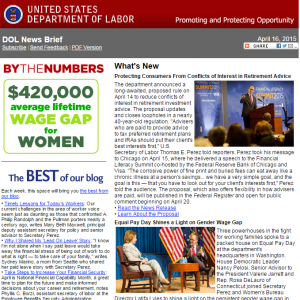 DOL in Action
Railroad Retaliation Nets $100,000 for Injured Worker
An investigation by the Occupational Safety and Health Administration determined that management of the Union Pacific Railroad added insult to injury when it blamed a worker who was injured on the job and then suspended him without pay for reporting his injury. Union Pacific violated the Federal Railroad Safety Act when it retaliated against the employee for reporting to his supervisors that he was hurt while lifting materials and equipment. OSHA has ordered the railroad to pay the worker $100,000 in punitive and compensatory damages. Since 2001, Union Pacific has faced more than 200 whistleblower complaints nationwide.
California Caregivers to Receive $101,000 in Back Wages, Damages
Assisted living employer Escueta Care Home, with three locations in Hayward, Calif., failed to pay caregivers the overtime premium for hours worked beyond 40 in a work week. Wage and Hour Division investigators established that 14 caregivers working at the three locations were owed $50,666 in unpaid overtime wages and an additional $50,666 in damages. The employer has agreed to pay all back wages due and assessed damages. "We continue to see widespread violations in an industry where unscrupulous employers are cheating their workers of their basic employment rights," said Susana Blanco, the division's district director in San Francisco.