CHOOSING THE RIGHT LAWYER AND ETHICAL CONCERNS
A person who believes they have a cause of action under the laws of the United States has the right to hire a lawyer to represent their interests.  It is very important that you hire a lawyer that not only has the necessary experience and skills you need, but someone you can trust and work with.  You need to be honest with your lawyer, and your lawyer must be honest with you, so you should hire someone who makes you feel comfortable and listens to your concerns. 
Oftentimes, when asked about his qualifications, a lawyer may refer a client to their own website, but the website may not provide sufficient information.  Take the time to speak to your lawyer.  Learn what kind of experience your lawyer has; How many cases has he or she tried?  How many appeals has he or she handled?  What are the areas of law he or she practices?  Much of this information can be obtained by speaking with your lawyer and visiting their website.  Additionally, almost all States and courts have websites that allow you to search cases, lawyers, and judges, see successes and failures, and research disciplinary actions. 
Be wary of any lawyer that makes promises about the outcome of your case, criticizes other lawyers, or oversells their qualifications.  Such a lawyer may not have your best interest in mind.  Lawyers must be cautious to ensure their advocacy for their clients does not create a conflict of interest with the potential financial gain for the lawyer – lawyers do get paid for their work, and typically the more work they have, the greater the potential for income. 
You want to make sure your lawyer is not putting their own financial interests ahead of your own!  As such, the American Bar Association, along with each State, has adopted rules and regulations which provide ethical rules for lawyers to abide by so that lawyers do not solicit clients in order to provide for their own financial interest ahead of a client's interest. 
Solicitation – the direct contact of a potentially new client or contact with a person already represented by a lawyer – is unethical and improper.  Thus, lawyers cannot solicit new clients by direct contact or try to convince clients who are already represented to fire their current lawyer to hire them instead.  Such conduct would be unethical and improper. 
If you are approached by a lawyer, or a person working on behalf of a law firm, offering you legal representation, you should immediately tell them you are represented by counsel, instruct them to stop the solicitation, and warn them of the unethical conduct.  If the lawyer or representative persists, call or email our office immediately.  Unfortunately, all too often, lawyers are so focused hiring new clients for their own financial reward, that they violate their ethical obligations. 
Under the Defense Base Act, it is very easy to investigate the experience of a lawyer.  You can learn about a lawyer's trial experience and appellate experience by using the U.S. Department of Labor's website: www.oalj.dol.gov.  This website is for the Office of Administrative Law Judges, the judges that hear and resolve disputes under the Defense Base Act.  As seen below, when you go to the website you will find a box on the righthand side called "Search Options".  By typing the lawyer's name, you will be able to see how many cases that lawyer has handled before the U.S. Department of Labor: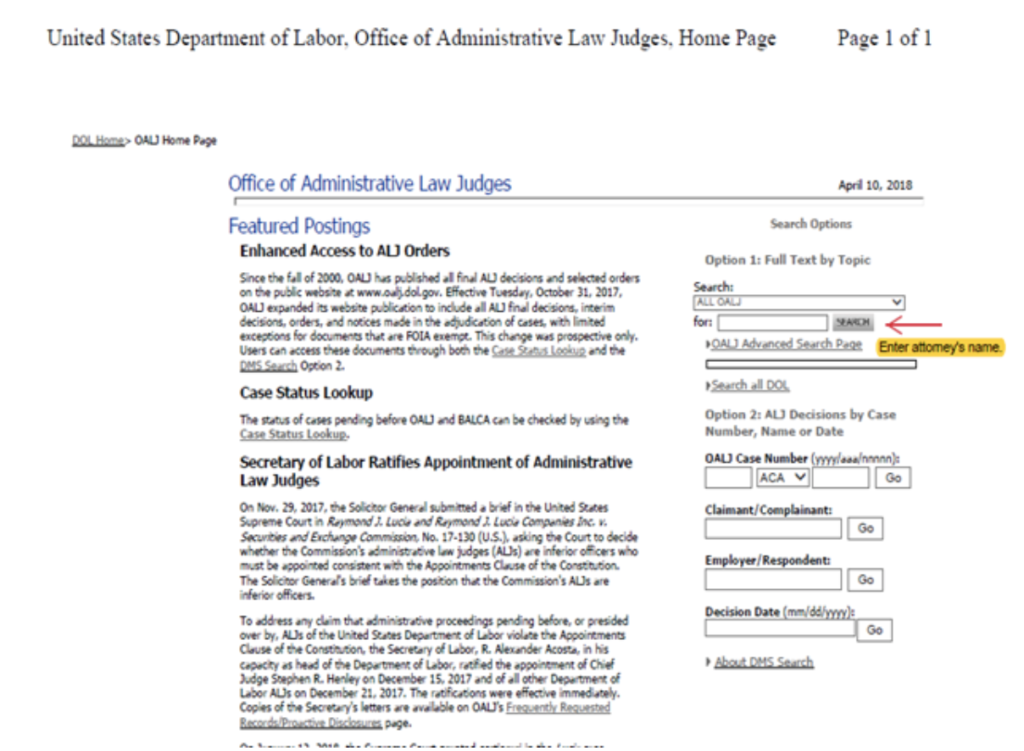 For example, if you type in the name of our managing partner, David Barnett, you will see that he has been involved in 411 cases before an Administrative Law Judge.  You can search through these cases to learn more about the lawyer and the types of cases they have handled before the Office of Administrative Law Judges.
You can do the same thing with the Department of Labor's website for the Benefits Review Board (BRB), the board that claims appealed from the Office of Administrative Law Judges.  Visit www.dol.gov/brb/decisions.htm.  You will find a search box on the top of the page allowing you to search opinions by the name of the lawyer or another term: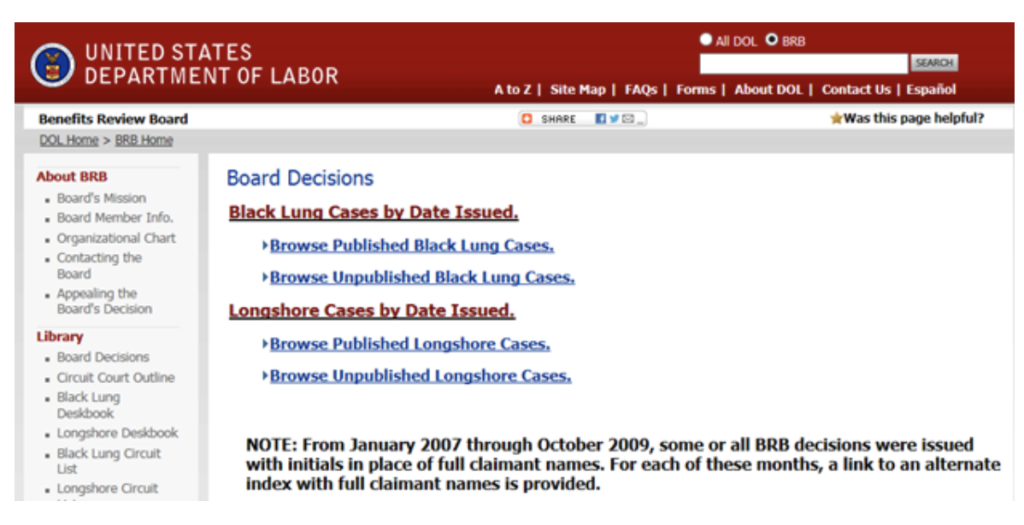 Type the lawyer's name in the search box and this will provide a list of all the appellate cases the attorney has handled.  Again, for example, if you type David Barnett's name in the search box, you will find multiple pages of cases Mr. Barnett handled on appeal.  Many other courts also provide similar search engines, allowing you to verify a lawyer's experience.
Not only are there many ways to find a lawyer, there are also many ways to verify a lawyer's experience.  Getting recommendations from family, friends, or business associates is perfectly fine, as long as you do your own research, ask questions, and do not hire a lawyer solely on promises or expectations.  Each case is different and a lawyer who is right for someone else may not be right for your legal needs.
The experience of all of the lawyers at Barnett, Lerner, Karsen & Frankel, P.A. are not only available on our website, but can also be obtained by calling our office, sending us an email, or simply searching our names with the U.S. Department of Labor.  Our lawyers are licensed in multiple State and federal courts, including Florida and the District of Columbia, and you can search their websites for additional information, including disciplinary actions.  We want all of our clients to be completely comfortable with us and confident in our abilities to represent you.  If you have any questions or concerns whatsoever, please feel free to contact our office.
=====================================================================================================================================
Success Stories:
Quispe Munoz v. Sallyport Global Services and Allied World National Assurance Co., Case No. 2017-LDA-0004 (February 8, 2018):  Mr. Samuel Frankel successfully obtained medical and compensation benefits for an injured worker.  The Claimant was injured in Iraq while working as a security guard in 2014.  These injuries stemmed from insurgent enemy activity, including rocket and mortar attacks, and an imminent attack from ISIS.  The Employer/Carrier denied the case, asserting the Claimant was barred from seeking benefits due to the time that had elapsed between his return home and filing the claim.  Judge Larry S. Merck rejected the Employer/Carrier's defenses and the opinion of the Employer/Carrier's IME physician.  The Judge found the Claimant's doctors more believable and awarded benefits to the Claimant.  The Court noted that the Claimant was injured within the course and scope of his employment, and filed his claim timely, after he first saw a doctor who was able to relate his symptoms to his employment, and explain to the Claimant the economic impact his symptoms had on his ability to earn wages. 
Lesson Learned:  Your first full awareness of the connection between your overseas employment, your injuries, and a restriction on earning wages may come months or years after returning home.  As soon as a doctor relates any injury to your employment, you must notify your Employer that you may be injured and want to file a DBA claim within 30 days of the doctor's appointment, and contact an attorney to assist you with filing your claim with the Department of Labor within one year of the doctor's appointment.
=====================================================================================================================================
Other News:
We are proud to announce Ana Catalina Alvarez, Esq. has joined our firm.  She started with us on April 2, 2018, and has several years of commercial litigation experience.  She graduated from Nova Southeastern Shepard Broad College of Law summa cum laude, and received her undergraduate degree from the University of Central Florida.  She was originally born in Colombia and is fluent in Spanish.  Please visit our website for her full biography.