Camp Lejeune Claims
We have been fighting for the rights of injured workers since 1995.Barry Lerner
---
---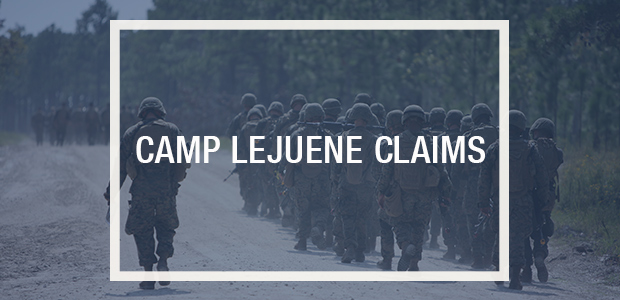 From 1953 to 1987, contaminated drinking water at North Carolina's U.S. Marine Corp Base Camp Lejeune put hundreds of thousands of people at risk for cancer and other serious illnesses.  Two of the eight wells at Camp Lejeune were contaminated with harmful chemicals known to cause cancer and other severe illnesses. These wells supplied contaminated drinking water to children at daycare or school, to military families for drinking and bathing, to patients in the hospital, and to servicemembers and civilian workers in their place of employment. Fifteen different illnesses and medical conditions including several types of cancer, reproductive problems, birth defects, and Parkinson's disease have been linked to Camp Lejeune water contamination.
Civilian employees working at Camp Lejeune would not quality for Veteran benefits and would have to seek recourse either under FECA (Federal Employees Compensation Act) or the Non-appropriated Fund Instrumentality Act.   Non-appropriated Fund Instrumentality Act applies to persons who are employed in, and receive wage from a Non-appropriated Fund.  Non-appropriated Fund employment is different than federal employment because the salaries are not allocated by Congress, but are paid by revenue generated by Service activities.  A civilian employee employed by the Army and Air Force Exchange Service, the Navy Exchange Service Command, the Navy Ship's Stores Ashore, Marine Corps Exchange and the Coast Guard Exchanges are typically considered Non-appropriated Fund employees.  An "exchange" is typically a retailer, restaurant or department store for the military. The employment is defined to provide comfort, pleasure, contentment, or physical or mental improvement of members of the armed forces as outlined in 10 U.S. Code Section 1587.  Some examples in Non-appropriated Fund employment include fast-food workers at restaurants like Subway, Pizza Hut, Starbucks, etc. as well as recreation aids, recreation assistants, accounting technicians, operations clerks, laborers, motor vehicle operators, custodial workers, food service work or those working in Morale and Welfare offices.
Non-appropriated Fund employees exposed to contamination may pursue wage and medical benefits under the Non-Appropriated Fund Instrumentalities Act.   This law was enacted in 1952 and provides workers' compensation protection to employees who worked for a non-appropriated fund instrumentality within the U.S. Armed Forces.  The Act mandated that benefits would be defined and delivered through the Longshore Act.  However, under the Longshore Act, the non-appropriated fund employee must still establish the causal connection between their employment and injury.
Since the Department of Veteran's Affairs now acknowledges certain forms of cancer linked to Camp Lejeune water contamination, it may impact successful pursuit of the non-appropriated fund claim.  However, not all the water at Camp Lejeune caused cancer. Persons living and working in areas serviced by two of the main water distribution systems, Hadna Point and Tarawa Terrace, were exposed to toxic chemicals and carcinogens in their drinking and bathing water. Areas serviced by toxic water at Camp Lejeune included barracks, family housing (both permanent and temporary), daycares and schools, as well as numerous workplaces. Anyone who lived or worked in areas serviced by these water distribution systems for at least 30 days may have been affected by toxins in the water at Camp Lejeune.
The Department of Veterans Affairs currently acknowledges the following forms of cancer linked to Camp Lejeune water contamination:
Esophageal cancer
Lung cancer
Breast cancer
Bladder cancer
Kidney cancer
Leukemia
Multiple myeloma
Non-Hodgkin's lymphoma
If you or your family members had Non-appropriated fund employement at Camp Lejeune between 1953 to 1987 and were serviced by either the Hadna Point or Tarawa Terrace water system and thereafer developed one of the above-listed conditions, you may be eligible for medical benefits and/or lost wage benefits under the Non-appropriated Funds Act.  Sadly, if a family member who had Non-Appropriated fund employment and subsequently passed away due to one of the listed conditions, death benefits may be available for surviving spouses and dependents.
Should you have any questions or concerns and want to speak with someone directly, please feel free to contact the firm at our toll free number 888-732-7425.  Alternatively, you can connect through our chat box or email the firm directly through "contact us".
---
Our Videos
Would you like to learn more? Still need a little more information? Our videos may help.
---
Get Started
Work with a team that cares about you. Our team has the experience and dedication to get you the justice you deserve.